As businesses strive to remain competitive in times of economic uncertainty, there is an increased need for effective supplier relationship management. A strong collaboration between the purchaser and suppliers can result in lower costs and better quality products, while driving innovation. In this comprehensive guide, we'll explore the fundamentals of managing a successful supplier relationship – from identifying potential vendors to preserving them long-term.
What is Supplier Relationship Management?
Supplier Relationship Management is an effective way to foster strong and collaborative relationships with suppliers, leading to improved business performance. SRM provides an opportunity for companies to gain a competitive edge by forming productive partnerships with their suppliers. By engaging in SRM practices, businesses can identify the best suppliers from which to source materials and services, optimize costs, mitigate risk, explore new opportunities for top-line growth through supplier innovation, streamline operational processes and receive preferential treatment as a customer of choice.
Supplier relationship management helps to break down suppliers into categories and develop strategies for managing them in the most efficient way possible. At its core are three distinct components — supplier segmentation, strategy development, and execution – enabling companies to identify risks/opportunities while optimally engaging with their vendors.
5 Benefits of Effective Supplier Relationship Management
Companies with advanced supplier relationship management capabilities tend to outperform their peers. As per a McKinsey report, leaders in supplier development and innovation tend to beat industry trends by 2x in growth and other metrics.
1. Reduced costs:
Effective supplier relationship management brings a range of benefits to businesses. Cost savings are at the forefront, as establishing and maintaining relationships with key suppliers can eliminate many of the setup costs associated with establishing new deals. Relationships with suppliers go further than just saving money- they also help create smoother processes, reducing availability/quality issues or delays that can affect customer service.
2. Minimize Price Volatility:
Through effective supplier relationship management, businesses can be empowered to gain stability in their pricing structures – offering customers the reliability and trust that comes with expected prices. Establishing clear cost base criteria also grants companies confidence as they create long-term contracts or set order minimums for more favourable fixed rates. The result? Longer customer relationships based on consistency and security – giving both parties peace of mind when it comes to market volatility!
3. Consolidation of Supply Chain:
Through better understanding of one another, buyers and suppliers can work together to mutually benefit from improved efficiency in the supply chain. Working practices may be tailored specifically for each other's needs – which could lead to further advantages such as reducing supplier costs by consolidating purchases. This streamlining enables more accurate forecasting of budgets over time.
4. Continual improvement of operations:
By creating a lasting relationship with your suppliers, you can open the door to beneficial avenues of collaboration and continual improvement. Feedback loops become more effective while production costs and customer satisfaction levels are optimized – all thanks to improved supplier management strategies! By engaging in joint product development efforts or smarter inventory control approaches, both parties reap the rewards from better operations that stand the test of time.
5. Outsourcing Certain Activities:
Working in partnership with your suppliers can offer a range of benefits and open up opportunities for outsourcing certain activities. A successful supplier relationship management programme allows both parties to build trust, leading the way to transferring key tasks such as inventory levels, or some areas of customer service onto the supplier's shoulders – freeing you up to focus on other areas of your business.
With established trust between supplier and client, businesses can look forward to improved communication. This will lead to a better understanding of customer needs resulting in shorter supply chain delays and smoother operations overall. Should any obstacles appear throughout the ordering process, collaborative problem-solving strategies are much easier with an effective working relationship present!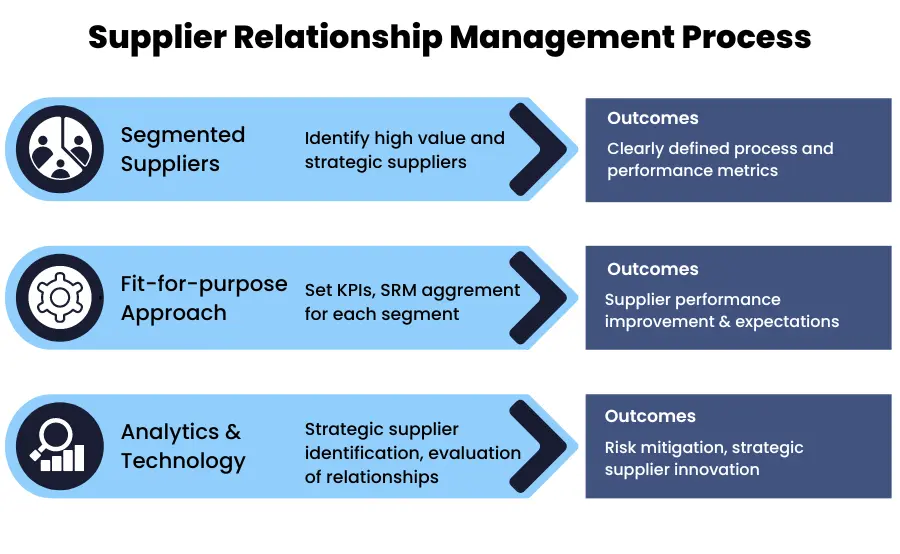 Supplier Relationship Management Process
To maximize the effectiveness of a supplier relationship management program and ensure that resources are not wasted, it is vital to define the framework in line with organization goals and strategy. The framework should also be reflective of company spending priorities, so areas of greater focus receive increased attention for optimal results.
1. Gather Supplier Information
Uncovering the "essence" of your suppliers is a necessity if you want to build strong relationships. Knowledge beyond price and product offerings can include their morality, mission statements, credibility in media and more – that's why it's crucial to have an up-to-date central repository so this information remains current. Automated trackers, alerts and audit trails will keep everything updated for better supplier relations over time. For instance, in tools such as Zycus' supplier management software, an audit trail is accessible for all the changes a supplier will make to their profile and their submitted documents.
2. Identify the high value and strategic suppliers
In a supplier performance management program, it's essential to identify the higher value and more strategic suppliers – those that are likely to pose the most risks. A robust supplier management tool can also help you identify high-risk suppliers who may be in the midst of geographical, climate, or other supply chain disruptions. This can assist alternative supplier selection and business continuity plans.
3. Set Specific goals and standards
After segmenting your suppliers into distinct categories, you can pinpoint the performance standards they must maintain to keep their partnership with you. Establishing these requirements up front will guarantee that everyone is on track toward achieving your business goals.
4. Translate the goals into specific requirements
Secure the foundation of your supplier relationships with a comprehensive contract. From realistic KPI's to regular compliance reviews, effective contracts set clear terms that meet all parties' needs and ensure transparency in objectives. A contract management tool can help make this process more robust and fault-proof.
Crafting specific requirements from high level goals and objectives can often be a daunting task. However, by understanding what types of documents and criteria are required, organizations can develop meaningful requirements that encompass all areas of the supplier lifecycle including onboarding, regulatory processes, risk management, and performance criteria.
5. Make a Supplier Relationship Agreement
Ensuring transparency, accountability and communication is vital to any successful business partnership. Crafting a Supplier Relationship Agreement that clearly outlines responsibilities for both parties will help strengthen the bond between you and your supplier – one with mutual benefit in mind. This agreement should not only establish product definition, pricing, payment terms etc., but also provide an agreed-upon timeline of all expectations set forth by each party – preserving harmony while enabling growth opportunities along the way.
6. Establish an Onboarding Process For New Suppliers
When establishing a Supplier Onboarding Process, the organization needs to assess new suppliers against requirements and goals (as mentioned in steps above), collecting necessary information from them or third-party sources in order to determine compliance. Assessing supplier risk profiles, developing mitigation strategies, setting expectations for performance measures and standardizing collaboration mechanisms are all key pieces of a Supplier Onboarding Process. Establishing key controls helps guarantees consistent reviews and auditing practices as well as seamless onboarding processes.
Zycus' iSupplier is an effective supplier management tool that follows a step-by-step registration approach. It is intuitive and easy to use, with no training required, suppliers can register themselves on the portal. Suppliers can directly visit Zycus' supplier portal and sign up as a potential supplier on the network.
7. Implement a Monitoring Program
Monitoring the progress and performance of suppliers is essential in a supplier relationship management program. Monitoring programs must analyze key areas, such as validating supplier information, continually assessing regulatory requirements, reassessing the criteria for determining supplier risk assessments, and updating KPIs to ensure suppliers meet their obligations or corrective actions are taken. Establishing clear expectations from internal stakeholders is also an important part of a monitoring program and provides an additional layer of oversight. Monitoring programs provide invaluable insights into your supplier relationships and allow organizations to maintain strong compliance measures that are in line with industry standards.
8. Establish Clear Communication Channels
Supplier relationship management doesn't just involve placing orders and saying "thank you" – it requires ongoing collaboration. Building a successful partnership with your suppliers relies heavily on the strength of your communication. Both parties need to be informed and involved in your connection, so make sure to keep them looped in, stay connected through regular messaging, provide feedback, show gratitude and let them know if there is anything that needs improvement. By helping them understand what role they play in achieving your goals, you create a cohesive team working together for success. With an open line of communication between supplier and customer, everyone can work towards a better end result.
Supplier Evaluation and Risk ratings
Supplier risk is an important factor to consider when managing the supplier relationships of your company. A supplier may cause significant disruption to operations by failing to deliver goods or services on time, providing products of poor quality, engaging in fraudulent activities, and violating regulations. Furthermore, a negative reputation from association with bad suppliers can also damage your company.
Companies have the potential to face a wide range of risks, depending on their industry and purchasing demands. Yet when it comes down to it, there are 4 crucial supplier risk categories that all organizations should be aware of- Financial, Legal, Operational and Reputational.
Supplier Risk Management Strategies
Achieving supply chain efficiency requires careful consideration of supplier risk. Knowing the potential vulnerability and disruption that your suppliers can bring to operations is essential in making sound decisions. Taking proactive measures such as conducting thorough evaluations will ensure you are aware of any risks before they have a chance to impact business continuity.
1. Understand your suppliers
Intensify your relationship with suppliers. Knowing the needs of those you work closely with, and taking steps to mitigate any potential risks can be a successful strategy for overcoming unexpected disruptions in supply chains. Zycus' iRisk provides 360o Supplier Risk & Performance Management.
2. Creating a risk-aware culture
Risk-awareness involves more than just protection from the unexpected; it encourages a team to practice proactive risk management. By collaborating on countermeasures and sharing the burden, teams can proactively identify potential risks before they become damaging realities.
3. Create a line of defense
Ready your organization for the future by implementing anti-risk policies as part of everyday operations. Ensure greater security with internal training, access controls on sensitive software and double checking systems – ensuring that you are prepared to face any potential risk head-on.
4. Protect against cyber risks
As more sophisticated cyber threats emerge, it is essential to ensure that your organization has the proper digital security measures in place. Training staff on best practices and utilizing risk-averting software can help prevent potential internal and external vulnerabilities from compromising data or operations.
5. AI powered supplier risk assessment
Build risk resilience with the power of AI. Identify, assess and monitor risk accurately & efficiently with Zycus' Merlin AI Suite.
Supplier Relationship Management Best Practices
Cultivating long-term relationships with trusted suppliers is a key component when it comes to ensuring business success in the market. So how can businesses go about nurturing these vital relationships? Let's take a look at some of the supplier relationship management best practices that can allow businesses to foster an environment where mutual trust and lasting agreements will be built over time – paving the way for healthy partnerships, greater operational efficiency and improved financial outcomes all around.
1. Treat your Suppliers Like Partners
Consider each supplier relationship an important asset, not just a financial transaction. It is important to ensure an alignment between supplier management strategy and business strategy. Take an active role in learning their goals and objectives, while also keeping them informed of any upcoming changes within your organization.Building a trusting rapport through consistency and respect will bolster loyalty, resulting in ongoing partnership excellence that maximizes success on both sides.
2. Communicate effectively with your suppliers
Building strong, mutually beneficial relationships with suppliers is key to successful supplier relationship management. However, achieving this requires open and transparent dialogue and feedback between the two parties, something that can be challenging to establish when procurement team members possess little or no training in leadership and interpersonal skills. Gaps in these skill sets need to be correctly identified and corporations must take steps to ensure that their supplier managers are armed with the necessary tools needed for successful communication.
3. Ensure timely payments
To keep a productive relationship with suppliers, timely payments are essential. Cash flow is instrumental to both of your businesses and making prompt payments will prove that you're an efficient customer who takes their collaboration seriously. If any deadlines cannot be met for whatever reason, make sure the supplier knows ahead of time when payment can be expected.
4. Get the right people, process in place
Having a dedicated Supplier Relationship Manager or at least part of someone's role dedicated to managing these relationships is essential for helping your organization save time, money and effort in this process. It is imperative that companies create a documented process to help guide their team on how to effectively manage and administer suppliers. No stone should be left unturned from SOPs, policy documents, agreements, and flowcharts to as little as a 2-4 page document outlining the process.
5. Evaluate and monitor risks
Whenever considering working with a new supplier, especially if you manage a complex supply chain, evaluate all the risks associated in order to be better prepared for any potential issues. Ask pertinent questions such as their track record, years of experience, leadership approach in times of crisis, etc. Despite your best efforts and planning things may still go wrong, but by evaluating your vendors risk profile ahead of time and regularly monitoring it, will help reduce interruptions that can occur in your supply chain.
6. Measure value from your SRM initiatives
Strategic supplier relationship management initiatives can play a key part in value addition to a company, but it is often difficult to accurately quantify this contribution. To ensure that these projects are successful, thought-leaders must develop inventive and detailed approaches specifically tailored to track the effectiveness of SRM programs. Such methodologies enable businesses to gain deeper insight into their relationships with suppliers and make data-driven decisions through meaningful measurement. Ultimately, money talks in a world that runs on numbers; reliable measurement processes ensure SRM initiatives get the recognition they deserve and attract future investments.
Get the right technology in place with Zycus
Zycus' solution portfolio encompasses the full spectrum of SRM needs, from e-sourcing and spend management to contract management and supplier management. Zycus' iSupplier provides a centralized repository to search suppliers both approved as well as potential suppliers and shortlist them basis certain questions for certain sourcing events. This makes supplier information management a very vital tool in understanding the organizations supplier risks and nature of suppliers and thus helps in leveraging this understanding to perform better. Supplier repository is a common integration point to other vendor masters and data warehouses.
Zycus Supplier Network (ZSN) is an end to end supplier management portal that serves as the single access point for suppliers for document and information exchange.
iRisk is the AI-powered 360o supplier risk management tool that unlocks a competitive advantage over traditional SRM solutions. It consolidates risk data from internal evaluations, external score databases, performance data from ERP, and millions of sources aggregated online. Dynamic AI ensures that the risk score is continually updated, informed by millions of risk sources every day.
iRisk also segments suppliers in terms of critical, tactical, commodity, and strategic importance so that CPOs can prioritize the relationships most likely to add immediate and long-term value.
Conclusion
As your business grows, it becomes increasingly important to develop and nurture positive supplier relationships. A well-run supplier relationship management program has the potential to bring considerable benefits to your company in terms of cost savings, quality improvements, and increased efficiency. To get started on the path to successful supplier relationship management, you will need to put some processes and structures in place, including a supply relationship agreement and the right technology platform. By following best practices for supplier relationship management, you can ensure that your company enjoys all the advantages that come with strong working relationships with suppliers. Do you have a supplier relationship management program in place at your company? If not, what is holding you back from starting one? Request a demo today and see how we can help you!
Related Posts