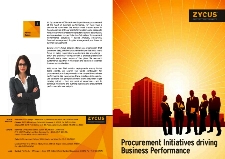 FILL IN THE FORM BELOW TO GAIN ACCESS
Many years ago, it was often said that in its primary role of interacting with suppliers, procurement worked on the 'front lines' of a business. But, while procurement continues to interact with suppliers, it has expanded its role dramatically over the past several decades.
Procurement has moved from the 'front line' to the very heart of high performing businesses and this move has brought with it areas where procurement can make a strategic impact. High performing businesses have certain strategic imperatives that need to be achieved to excel in today's competitive and volatile business environment. Contemporary procurement professionals are extensively collaborating throughout their business organizations and supply networks and are leveraging technology in the areas of spend analysis, strategic sourcing, contract management, supplier management & financial savings management to drive competitive performance along many these strategic imperatives. By effectively contributing in key strategic areas, procurement has transformed itself as a key element of business performance within organizations across the globe.
This whitepaper provides a comprehensive overview of the 6 key strategic imperatives (visibility, compliance, contribution to the bottom line, alignment & collaboration, technology adoption & innovation) focused by high performing businesses and offers insights into technology & tactics used by some of the best-in-class organizations which have had direct impact on the organizations bottom line, resulting in procurement moving at the heart of high performing businesses