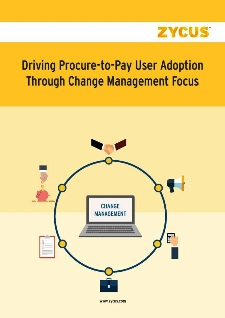 FILL IN THE FORM BELOW TO GAIN ACCESS
In this white paper we are going to see how the next generation P2P solution helps organizations automate their processes and get the best result. Further, we will discuss the role of "Change Management" as a driving force in realizing near 100% adoption of P2P solutions after implementation.
Change management is also a critical aspect when it comes to organizations and their endeavour to tackle with the changing technological landscape.
The white paper will focus on:
The need for effective change management programmes – essentially the softer side of the equation - when it comes to successful implementation of Procure-to-Pay technology.

How a leading semiconductor manufacturer who rolled out a next generation P2P solution used innovative strategies to deliver effective change management programs and drive behavioral change across multiple user groups and roles, resulting in rapid deployment and user adoption.