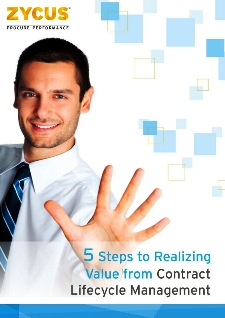 FILL IN THE FORM BELOW TO GAIN ACCESS
Contract Lifecycle Management involves effectively managing the various stages of contracting right from creation through to execution and analysis of contracts, for maximizing operational and financial performance and minimizing risk.
Effective CLM is a key to ensuring maximum operational and financial performance from contracts and at the same time minimizing risk. Before we proceed to discuss the common challenges encountered for effective CLM let us have a brief overview on the various stakeholders involved during the various stages of CLM.
Contract & CLM processes have different significance to a lot of people within the organization. When we talk of procurement, they mainly look at contract from the perspective of improving compliance. Legal looks at contracts more from the perspective of risk mitigation and plays a pivotal role during the contract creation stage. For the CFO, apart from apart from tracking internal & external compliance, supply side contracts mean bottom line results while sales side contracts mean top line results. For the head of sales CLM process is relevant during the contract creation & compliance tracking stages.
This whitepaper will delve into the challenges that impede effective contract lifecycle management & later will provide the 5 steps that organizations can adopt to realize value from CLM.