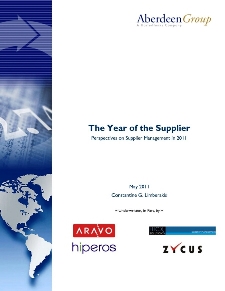 FILL IN THE FORM BELOW TO GAIN ACCESS
Competitive global businesses are requiring organizations to place more emphasis on building and nurturing supplier relationships, sparking increased interest for promoting areas such as supplier information management, compliance, risk and performance.
Managing supplier relationships today has gone from identifying and buying goods and services based on negotiated pricing (a transaction focused approach) to the strategic ability of recognizing "win-win" opportunities for both buyer and supplier through enhanced supplier management activities.
In this regard, effective supplier management can ultimately lead to a variety of benefits, including increased collaboration, savings to the buyer, and alternative or even additional sources of revenue for the suppliers over the long-term.
Learn more: Vendor Management