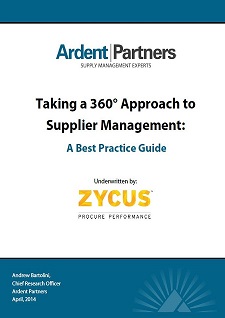 FILL IN THE FORM BELOW TO GAIN ACCESS
Business in 2014 is remarkably different than it was five years ago and it will be remarkably different five years from now. Product lifecycles are collapsing as are the windows available for businesses to charge a premium for their products and services. Maintaining a market leadership position across an entire business cycle has never been more difficult. To thrive in such a fast-moving environment, industry leaders are placing greater trust in their partners and suppliers as they attempt to turn every market swing to their favor. These enterprises know that no organization, group, or individual has cornered the market on innovation and that their goods and services are improved when their suppliers are operating at an optimal level.
Accordingly, it is no surprise that Ardent Partners' research has shown that supplier collaboration is one of the top strategies used by Chief Procurement Officers to drive more value in 2014. But true supplier collaboration requires a change in mindset for most procurement teams and professionals who must reclassify key suppliers as business partners and begin to invest time and resources in improving their partners' capabilities. The resulting shift in traditional buyer-supplier relationships has created a new set of operating principles and best practices that emphasize collaboration, agility, and innovation that should be modeled across the entire supplier relationship. This report highlights best practices in supplier management by taking a 360° view of the relationships that enterprises should have with their suppliers.