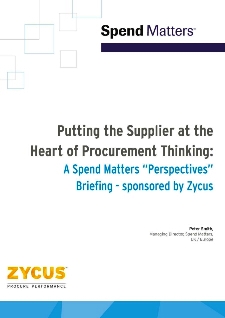 FILL IN THE FORM BELOW TO GAIN ACCESS
In this Spend Matters Perspectives briefing, we will consider Supplier Management, and suggest that the time may have come for procurement executives and organisations to put it at the heart of their strategy. Might it even take over from Category Management as the fundamental basis and guiding principle for procurement activities? Not completely, but there is no doubt it is gaining more focus amongst procurement leaders and thinkers.
This briefing will look at why this is the case, and consider what external factors are driving this increased interest. It then discusses the key elements of supplier management, and considers the benefits that are potentially achievable from improved supplier management, including how different areas and stakeholder groups within the buying organisation tend to look at their own priorities arising from suppler interaction. Finally, some actions are suggested that can help organisations improve their practice in this area.
Step 1
Supplier management is moving towards the centre of procurement thinking
Nothing stands still for too long. Are we now seeing the start of another change in procurement focus? That may well be the case, and this paper will explore why the supplier and supplier management is moving towards the heart of procurement focus, thinking and management.
Step 2
Supplier management in practice
For procurement to develop and build on a supplier focus there must be the right mental attitude and hard data, processes and systems.
Step 3
The benefits of supplier management good practice
A cross-divisional, business wide approach to supplier management has positive benefits for the procurement function as well as for the organisation. Working to improve the manner, in which suppliers are managed, is a powerful way to gain credibility with stakeholders and demonstrate that procurement executives are supporting and working with business and key functional colleagues.
Step 4
Taking steps to implement supplier management principles
If the focus for procurement should be more strongly on suppliers, what can executives practically do to take steps in that direction?