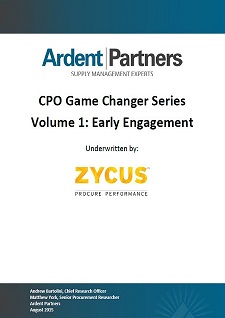 FILL IN THE FORM BELOW TO GAIN ACCESS
Ardent Partners research has shown that getting the sourcing team involved earlier on a project can drive more savings, improve quality and reduce risk. The difference between serving as an order taker or as a strategic partner is not subtle and the potential difference in results makes it incumbent upon CPOs to insure that their teams are properly engaged and executing on the right projects.
This research report, part of a larger series on game-changing strategies for Chief Procurement Officers (CPOs), discusses the strategies and approaches that CPOs and their teams can use to engage the budget holders in proactive planning discussions and formalize their level of interaction and support.