Panel Discussion
Panel Discussion
Procurement Leadership Agenda & Narratives (PLAN) for 2023 & beyond
Panel Discussion
Purpose-driven procurement with ESG
Panel Discussion
How is AI Changing Procurement
Pro-Talk
Pro-Talk
Future Proofing Procurement
Pro-Talk
Purpose-driven procurement with ESG
Pro-Talk
How is AI Changing Procurement
Measure Performance and Reduce Supply Chain Costs
Zycus Supplier Management helps you manage your suppliers better by managing supplier information and measuring their performance.
Visit Merlin Experience Center For More
Three Steps to Better Supplier Management with Zycus
Better Collaboration
Increased stakeholder participation, transparency, and credibility in performance metrics.
Improved Compliance
Strict control on regulatory compliance during the supplier onboarding process.
Risk Mitigation
Better identification of supplier-related risks and informed decision making.
Zycus Supplier Management Key Features
Drag-and-drop capability to create highly customized surveys for various categories.
Create development programs that can be accessed by suppliers from the supplier portal.
SCAR (Supplier-Corrective-Action-Request) against suppliers to address an issue, find corrective actions & prevent similar issues in future.
Duplication check and auto-normalizing supplier data during supplier profile creation.
Self-serviceable supplier portal for screening of potential suppliers.
Ensured information updation with document tracker, supplier alerts and audit trail (for e.g. insurance certificate, diversity certificated).
Zycus Supplier Management helps you measure supplier performance collaboratively and store everything related to all your suppliers in a single place.
Zycus Advantage
Greater Configurability
Highly configurable supplier fields and ability to create surveys for different categories.
Improved Collaboration
Ability to create Development Programs for suppliers whose performance needs improvement.
Performance Reporting
Detailed and granular reporting on supplier performance based on pre-set KPIs.
Resources
whitepaper
The Hackett Group Infographic: Build a Sustainable Procurement Program
Download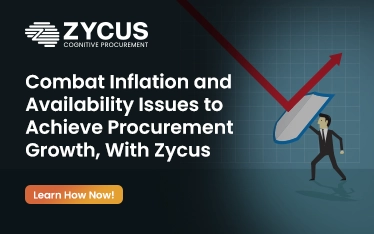 whitepaper
Procurement's Guide To Unlock Growth Amidst Uncertainty
Download
webinar
Procurement Leadership in the Digital Age: Redefining Technology, Agility and Adaptability
Watch Webinar
Whitepapers
Strategic Insights for Procurement: PLAN for ESG in 2023 & Beyond
Top 4 Procurement Trends to Watch in 2023: Asia-Pacific
Procurement Leadership Agenda & Narratives For 2023: EMEA region
Procurement Leadership Agenda & Narratives PLAN 2023: North America
Procurement Leadership Agenda And Narratives For 2023: Asia Pacific
Navigate through and come out stronger from a recession with AI-powered AP Automation
Case Study
6 Procurement Transformation stories from 6 Industries
Global automobile manufacturer transforms invoice processing
A Leading European Banking and Financial Services Company relies on a comprehensive S2P suite for it's procurement transformation
A Leading Fast-fashion Retail Giant Accelerates its Sustainability Initiative
4 Australian Government Case Studies of Successful Procurement Transformation
Global Energy Storage Solutions Company Adopts Modern Procurement Practices Using a comprehensive Source-to-Contract Suite
Accounts Payable Automation for Anomaly and Fraud Detection
Phantom vendor
identification
Automated anomaly detection technology helps identify and prevent fraudulent payments by flagging any vendors that do not match the authorized vendor Iist.
Duplicate
invoice detection
Al-led scanning of every invoice to identify and flag potential duplicates, helping prevent overpayments and save time.
Vendor email and
signature verification
Al-led email and signature verification ensures that all communications with vendors are legitimate, preventing phishing and other email-based scams.
AP Leadership Agenda for 2023
Gain practical insights into how Al-led automation can help in overcoming major AP challenges.
Key Metrics
53%

Reduction in Average time to create an invoice


833 Hours

Average processing time saved per 50,000 invoices
62%

Reduction in cost per invoice